Executive Leadership Workshop
Essentials
This workshop is specifically designed for executive leaders to help them build an organizational culture based on strong critical thinking skills. It features an introduction to the five Kepner-Tregoe technologies and overview of the seven keys to their successful implementation.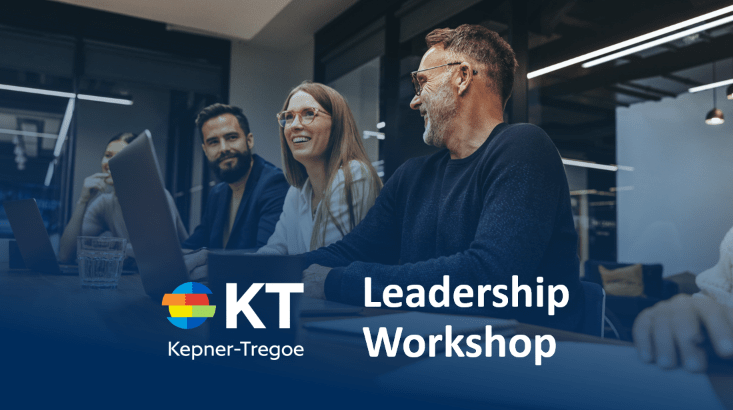 What You Get:
Access to digital tools and resources
1-day workshop led by expert instructors
Instructional materials and resources
A digital copy of The New Rational Manager book
To see the total select country, date and number of participants
To see the total select language, date and number of participants
In this county services are provided by the official KT licensee.
* Before applicable taxes
Class seats guaranteed with payment. Seat reservations held for 72 hours.
Contact us to inquire for more details or have the workshop customized upon your corporate needs.
Audience

Specifically designed for senior management executives, this workshop is tailored for leaders who wish to elevate the prioritization, problem-solving, decision-making, and risk-management skills of their organizations. It is a one-day investment to learn critical thinking skills from the company that pioneered the implementation and integration of rational process in business.

Skills Developed

During KT's Executive Leadership Workshop, you will be introduced to the best-practice methods for:

Reducing the risk of poor decision-making and inefficient problem-solving
Improving critical thinking of your organization and leadership teams
Uncovering root-causes of complex technical and transaction problems
Planning and executing the rapid resolution of high priority problems
Asking insightful questions to uncover critical details and hidden information

Key Features

Root Cause Analysis (RCA) training – Participants will learn how to lead organizations to become expert in conducting in-depth analysis of complex problems to uncover their root causes.
Decision Making Skills – The program will teach executives and leaders how to help their team leaders to make critical decisions that align with strategic and operational priorities.
Risk and Opportunity Management – Participants will learn an efficient method for instructing managers how to proactively prevent or avoid risk and discover as well as leverage strategic opportunities.
Prioritization & Resolution Planning – The workshop will help executives learn how to instruct their leadership teams on how to identify high-priority issues and plan for their resolution.
Questioning Techniques – Participants will learn how to help their managers ask the right questions to uncover hidden insights aiding them to make better decisions faster and with greater precision.
Tailored to Executive Needs – The program is designed for senior leaders to help them improve the performance of their direct-reports.

Workshop Details

Duration: 1 day (8 hours)

Participants: ~24

Learning Tools Included: All workshop attendees will receive access to learning support materials (workshop manual, KT process cards, and a leadership review trifold)

Available only in-person, (not provided in a virtual format)

Testimonial
Bob Lutz

Bob Lutz, former Executive Vice President & Board Member of Ford Motor Company, former Vice Chairman & Board Member of Chrysler Corporation and former Vice Chairman of General Motors, talks about his experiences with the Kepner-Tregoe methodology.

Brochure
Contact Us
For inquiries, details, or a proposal!